CATEGORIES
CONTACT US
ADD: Shangsha industry Chang An Town, DongGuan City, GuangDong Province, China.
TEL: +8613728113481
FAX: +86-769-88734858
E-mail: jericho@ly-printingmachinery.com sales@ly-printingmachinery.com

> IR tunnel dryer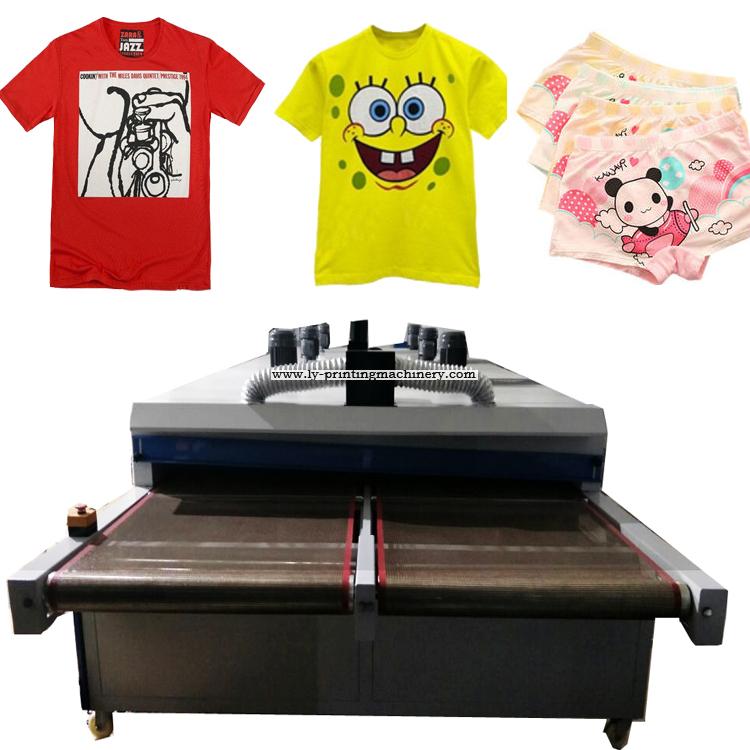 IR tunnel dryer with double split belt for garment
Double split belt
Garment IR tunnel dryer
independent adjust
High quality
Product description: LY-IR2-7000
PRODUCT INTRODUCTION
IR tunnel dryer with double split belt LY-IR2-7000 is customized advanced IR tunnel dryer, it is suitable for drying all kinds of items with high speed and excellent drying effect . it with 2 conveyor belt with independent controlled speed and temperature .
PID operation, power regulator phase offset, Ensure that the infrared lamp shine smooth. No flicker
Application:
1.IR drying tunnel can drying all kinds of ink ( except UV ink),such as Plastisol ink, thermosetting ink,screen printing ink,pad printing ink,plastic ink,glass ink ETC.

2.It can drying variety of material ,such as T-shirt, pants,fabric textile,plastic,matel,glass,wood,silicone Etc
Specification
1.Conveyor length :7000mm
2.Conveyor width:2000mm
3.Entry end length:1000mm,Exit end length:1500mm
4.Add additonal cooling fans in Exit end: 600mm
5.Width thermal insulating layer:100mm.
6.Working power: 380V 50HZ
7.Heat Power:30KW,Total Power:37KW(all power of machine)
8.Temperature adjustment: 0-200 Centigrade
9.Belt speed adustment: 0-10M/MIN
10.Machine size:7000*2000*1300mm(LxWxH)
11.Gross weight: 1910 KG
12.Mesh belt material:Teflon
13.Conveyor Speed adjustment is stepless(variable)
14.Three section can be open ,3 x 1500mm chambers with digital thermostat control of each chamber for variable heat control
15.Heating system is electricity (IR system is preferred)
16.Split belt can be adjustable of speed independently
17.With exhaust ducting
Description
1) Machine size:L7000W2000H1300mm.
2)Tunnel size: temperature zones 4.5M, Entry end length:1000mm,Exit end length:1500mm, width:2000mm.
3) There are 4 section in the tunnel, 3 temperature zones(3x1.5=4.5m),1 cooling temperature(600m)
4) Entrance and exit are installed height adjustment board, the adjustment range is 30-100MM.
5) Tunnel inside body is adopted 1.5mm galvanized sheet bending welding lateral upper oblique angle.
6) Tunnel body is made by angle iron bar production, sub-combination of design structure, easy removal and convenient installation.
7) Adjustable feet at the bottom of the foot cup, easy to move and positioning, adjust the height and level.
8) With sheet metal to under frame area,so that it can be dust-proof, safe, beautiful, hanging buckle structure installation, easy maintenance and combination.
9) The oven body is sealed with imported silica gel.
10) The inner wall of the oven is 1.2mm stainless steel, and each infrared lamp is equipped with stainless steel reflector.
11) Driving force: 1/2P Gear Reducer Motor made in TaiWan (Wan Xin brand).
12) Equency converter: imported in Taiwan (Dongyuan brand).
13) Forced Exhaust Macharism inside of the Tunnel , motor is adopted high-temperature axis motor from TaiWan.
14) Reducer: 30: 1 of 2 reducers , speed mode: frequency adjustment can be precise speed.
15) Conveyor sprocket is adopted carbon chain standard sprocket, the main cold-drawn steel car system.
16) Conveyor motor with a spiral way to adjust the mesh tightness, beautiful and durable.
17) Electrical control box position: in the entrance front of the machine, the operation panel on the left side of the machine.
18) Full Automatic correction system to prevent the belt deviation.
19) Special design of the air duct from top to bottom changes from small to large air duct to ensure that each layer of uniform air volume, the temperature difference of ± 3%.
20) The oven body is consist of shell, rock wool layer, liner layer and other components, special insulation structure to ensure that the surface temperature is low, good insulation effect (surface temperature is higher than the ambient temperature △ T ≤ 7 ℃, hand feeling is cool , Counterparts generally fail to meet this standard, peer general insulation structure, △ T ≤ 12 ℃, hand feeling hot) environmental protection and energy saving, comfortable working environment
21) Imported cotton insulation, thermal insulation effect is excellent, energy saving than the ordinary oven to save 30% electricity.
22) Microcomputer intelligent temperature control system, temperature than the general use of temperature control machine is more reliable and stable, the temperature can be segmented control.
23) Add electrical protection and over-current protection devices, over-temperature alarm protection.
24) Electrical parts is imported authentic, AC contactor is famous brand French Schneider.
25) All oven internal lines using high-temperature sets of protection, clear and neat to facilitate maintenance.
26) PID operation, power regulator phase offset, Ensure that the infrared lamp shine smooth. No flicker.
27) Input rated voltage: 3ФAC380V 50 / 60Hz (three-phase four-wire + ground).