CATEGORIES
CONTACT US
ADD: Shangsha industry Chang An Town, DongGuan City, GuangDong Province, China.
TEL: +8613728113481
FAX: +86-769-88734858
E-mail: jericho@ly-printingmachinery.com sales@ly-printingmachinery.com

> Pad printing machine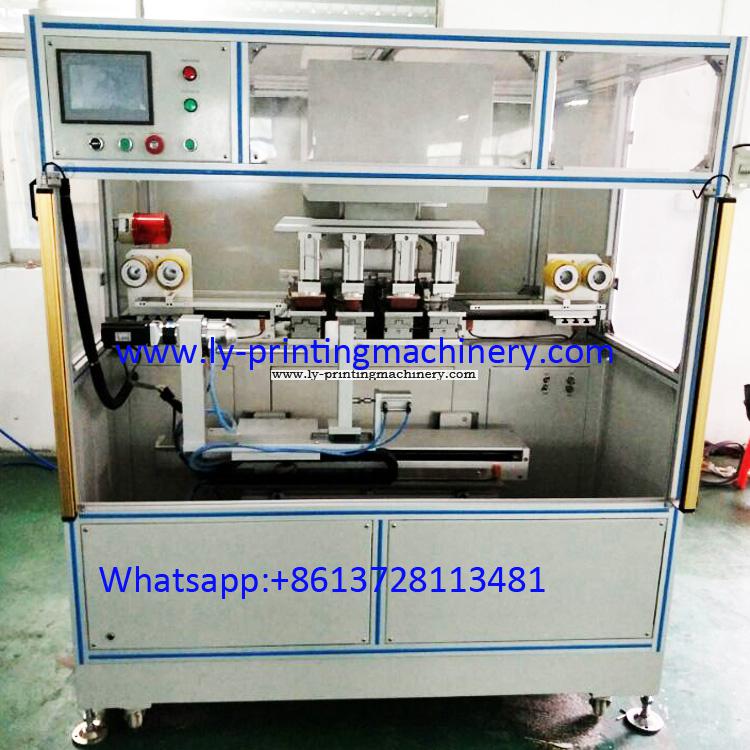 4 color PLC pad printer with cleaning pad system
PLC pad printer
closed ink cup tampo printer
Product description: LY-PIC-400C
PRODUCT INTRODUCTION
4 color PLC independent pad printer with cleaning pad system
This machine with Flexiable servo motors control by PLC system, it with closed ink cup running system, can save 60% ink and 90% thinner, very environmental .
Auto cleaning silicone pads of pad printing The machine with automatic rubber pads cleaning system, can automatically clean silicone pads before the first save the trouble of cleaning staff, greatly improved printing quality and printing speed.
This machine is special made for the special part 4 colors printing. As the four pad of this machine is working independently, namely when print the first color, just the first pad is working, but the others pad is stay at original, not move. In the same way, when printing second color, the first pad is come back to original and not working, just second pad is printing. So this machine can avoid another pad hitting when printing first color
Specifications:
1.Model No.:LY-PIC-400C
2.Plate size:100x250mm(4''x10''), 150x350mm(6''x13.78'')
3.Ink cup size:ID90xOD100mm, ID140xOD150mm
4.Max printing area:
80x80mm,130x130mm
5.Printing capacity:800PCS/Hr
6.Front/back and up/down: servo motor
7.Part shuttle drive: servo motor
8.Control system:PLC
9.With auto cleaning pad system
10.Front/ back stroke:400mm
11.Air requirement:6 Bar
12.Voltage:110V/220V 50/60Hz
13.Machine size :1360x1380x1800mm
14.Machine weight:550KG
15.Packing size: 1550x1460x2000mm
Features:
1, suitable for 1-4 colors large size printing, widely apply in many different industries, including stationery, ,shoes ,cups,bottles, toys, plastic, gift, electrical appliances, etc.
2, PLC touch screen controll all movements.
3, programmable servo motor driven part shuttle for high accuracy printing.
4, 400mm standard strokem closed ink cup design for ink save and green printing.
5, servo motor driven front and back stroke.
6, servo motor driven printing stroke, up and down stroke is adjustable.
7, ink cup base with X, Y, R adjustment.
8, fully automatic tape for pad cleaning.
9, hugh machine frame with stable printing.