CATEGORIES
CONTACT US
ADD: Shangsha industry Chang An Town, DongGuan City, GuangDong Province, China.
TEL: +8613728113481
FAX: +86-769-88734858
E-mail: jericho@ly-printingmachinery.com sales@ly-printingmachinery.com

> UV curing machine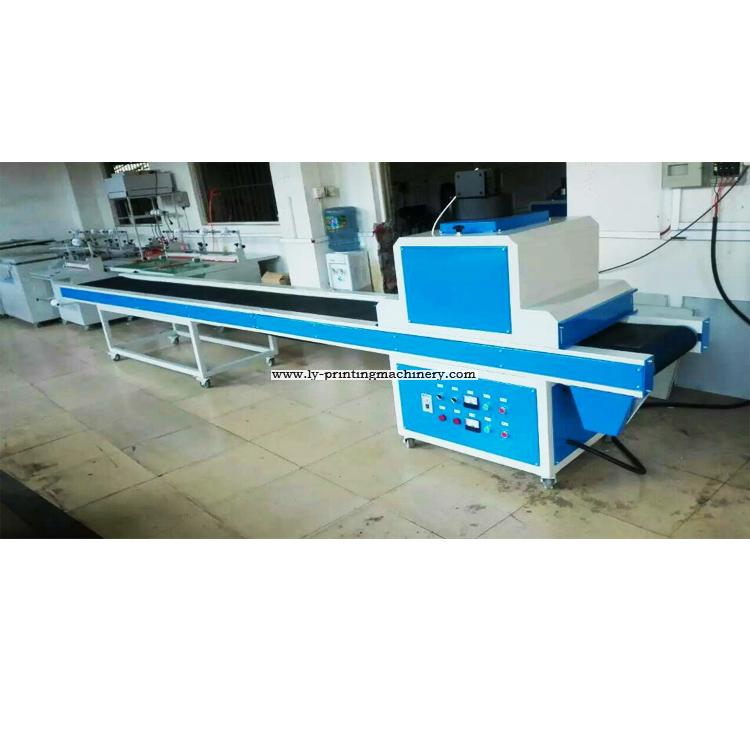 Long size Plane UV curing machine LY-700UL
UV dryer
UV curing machine
UV tunnel
UV conveyor
Product description: LY-700UL
PRODUCT INTRODUCTION
Applicable range
Used for drying screen printing ink of UV ultraviolet (UV) light curing. Can be used in UV light oil, grinding, wrinkles, snowflake, foaming, crystal convex oil, marble, refractive index, various UV color, UV drying , Paper UV PRITNING ,UV POLISHING , PVC,PET , PCB after printing UV printing, electronic product UV sparying , paper UV pritning, packing products UV drying ETC.
UV Lamp lifetime can reach 1000-1200 hour. Lowest and highest UV lamp operating temperature is 50 degrees Celsius and 75 degrees Celsius respectively. Driven by well-known motor, stepless speed adjustment.The Conveyor speed can be adjusted according to product's characteristics
Description
Long size Plane UV curing machine LY-700UL is customized by our customer, the leng is 5M, it is suitable to connect with assembly line and other machine.

1.It is adopted independent system for UV lamp , you can adjust the power what you want .
2.The Conveyor Speed adjustment is stepless , It can adjust speed depend on your requirement.
3.It with emergency switch so that quickly deal with emergency.
4.The machine can add bridge can connect with offset presses for paper UV cure, such as Heidelberg, Roland, Komori, Ryobi offset press, etc
5. Conveyer belt made by tefulong materials, UV Lamp lifetime can reach 1000-1200 hours.
6.It can add unloading system ,so that save workers labor.

Tech Parameter
1.Model NO:LY-700UL
2.UV Drying products:5000*700*100MM
3.Conveyor belt size:L5000* W700MM
4.UV Lamp power:2PCS*3KW /380V
5.Total wattage:7.5KW
6.Wind fan wattage: 500W/380V
7.Motor wattage:1000W/1P/380V
8.Conveyor speed:0~10m/min
9.Speed change ways:Continue
10.UV Machine Dimension:L*W*H5020*900*1350MM